July 4th Word Search
A Challenging 50 Word Pencil Puzzle

July 4th Word Search...

July 4th is a great time to celebrate and reflect on the freedom enjoyed in the United States of America. Challenge yourself or your 4th of July party guests to complete this word search puzzle in record time. Who will finish first?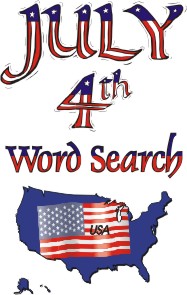 This pencil puzzle has 50 words associated with the July 4th US patriotic holiday hidden backwards, forwards, up, down and diagonally. Can you find all of the words?

Print a black and white copy for leisurely puzzle solving, or print the special colored version, designed to look like Old Glory, the USA flag to use as favors or entertainment for your July 4th party.
Request your free full-size printable version. 
July 4th Word Search Puzzle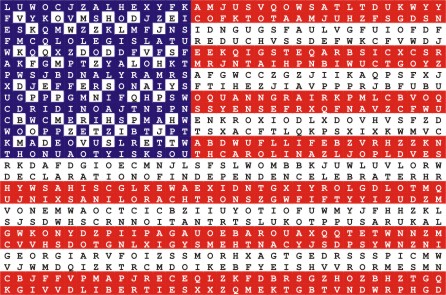 Fourth of July Word Search List
ANTHEM
ASSEMBLY
BETSY ROSS
BILL OF RIGHTS
BLUE
CELEBRATE
COLONIES
CONNECTICUT
CONSTITUTION
DECLARATION OF INDEPENDENCE
DELAWARE
FIFTY
FIREWORKS
FREEDOM
GEORGIA
GOVERNMENT
GREAT BRITAIN

HAPPINESS
HOLIDAY
JEFFERSON
JOHN HANCOCK
JULY FOURTH
JUSTICE
LEGISLATURE
LIBERTIES
LINCOLN
LIFE
MARYLAND
MASSACHUSETTS
NATION
NEW HAMPSHIRE
NEW JERSEY
NEW YORK

NORTH CAROLINA
OLD GLORY
PARADE
PATRIOTISM
PENNSYLVANIA
RED
RHODE ISLAND
SIGNATURE
SOUTH CAROLINA
STARS
STATUE OF LIBERTY
STRIPES
THIRTEEN
UNITED STATES OF AMERICA
VIRGINIA
WASHINGTON
WHITE


Enjoyed this puzzle? Try this Uncle Sam word search designed in the shape of the iconic symbol.