Printable Christmas Word Search Puzzles Shaped Like Christmas Symbols
If you enjoy Christmas words search puzzles , you'll love these. Each word search is in the shape of a Christmas symbol, and after solving, the remaining letters spell the title of a popular Christmas song.
Request your full size printable versions by using the form below. You'll be given immediate access to the printable game and answer sheet. There are four puzzles in all. 

Candy Cane Shaped Christmas Word Search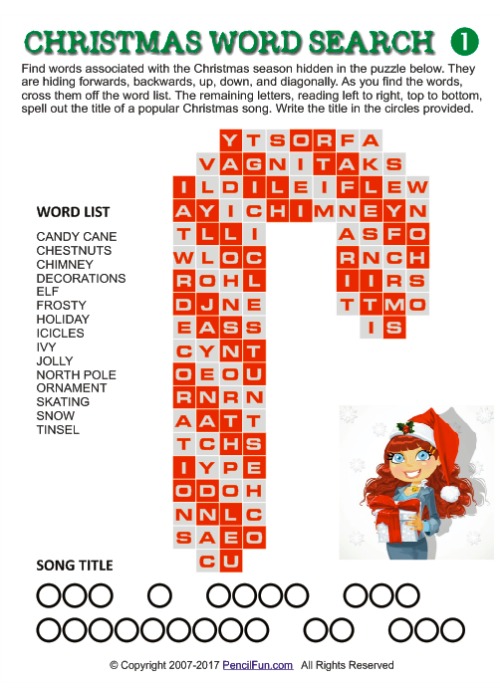 Word Search List
CANDY CANE
CHESTNUTS
CHIMNEY
DECORATIONS
ELF
FROSTY
HOLIDAY
ICICLES

IVY
JOLLY
NORTH POLE
ORNAMENT
SKATING
SNOW
TINSEL


Christmas Tree Shaped Christmas Word Search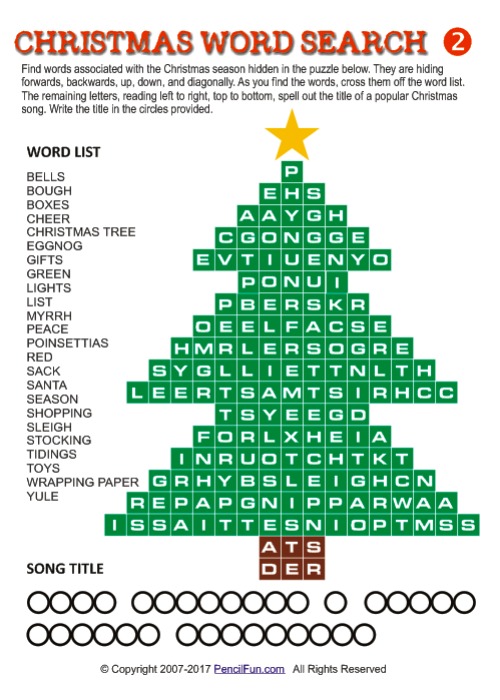 Word Search List
BELLS
BOUGH
BOXES
CHEER
CHRISTMAS TREE
EGGNOG
GIFTS
GREEN
LIGHTS
LIST
MYRRH
PEACE
POINSETTIAS
RED
SACK
SANTA
SEASON
SHOPPING
SLEIGH
STOCKING
TIDINGS
TOYS
WRAPPING PAPER
YULE


Star Shaped Christmas Word Search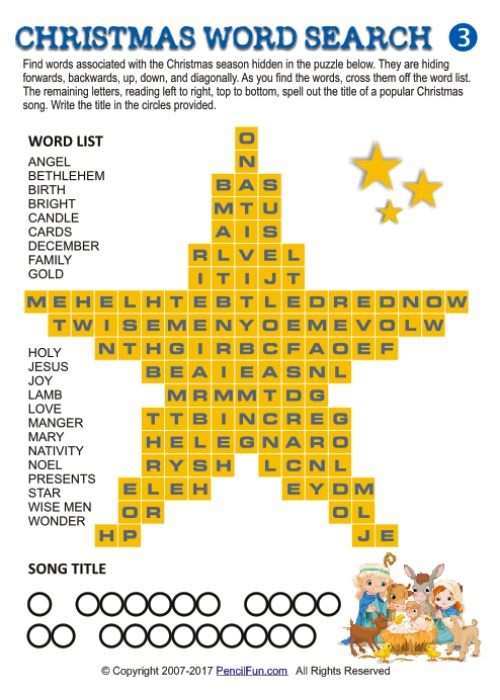 Word Search List
ANGEL
BETHLEHEM
BIRTH
BRIGHT
CANDLE
CARDS
DECEMBER
FAMILY
GOLD
HOLY
JESUS

JOY
LAMB
LOVE
MANGER
MARY
NATIVITY
NOEL
PRESENTS
STAR
WISE MEN
WONDER


Wreath Shaped Christmas Word Search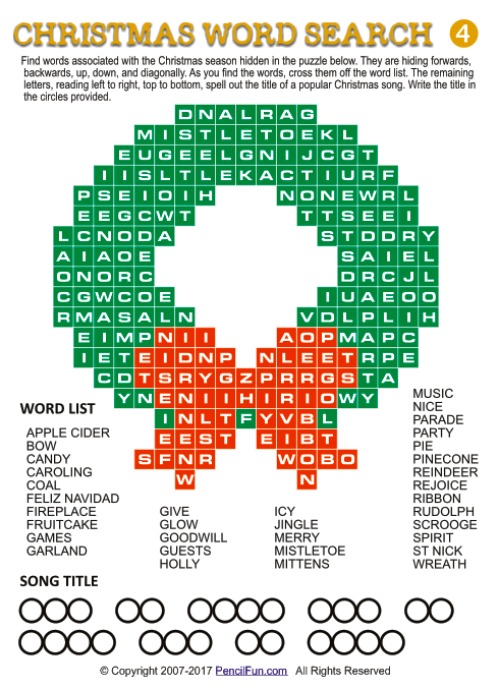 Word Search List
APPLE CIDER
BOW
CANDY
CAROLING
COAL
FELIZ NAVIDAD
FIREPLACE
FRUITCAKE
GAMES
GARLAND
GIVE
GLOW
GUESTS
HOLLY
ICY
JINGLE
MERRY
MISTLETOE
MITTENS
MUSIC
NICE
PARADE
PARTY
PIE
PINECONE
REINDEER
REJOICE
RIBBON
RUDOLPH
SCROOGE
SPIRIT
ST NICK
WREATH